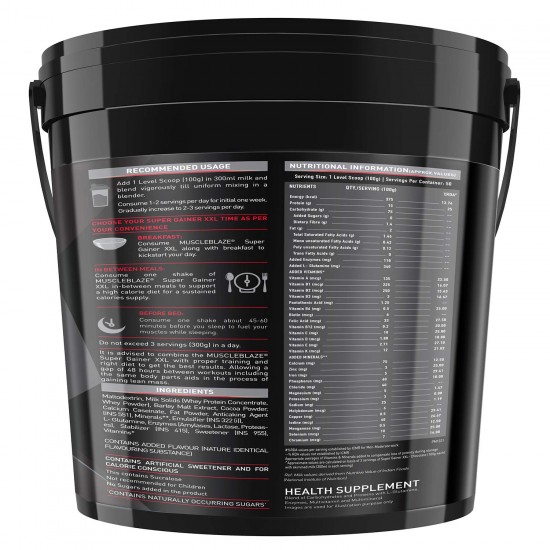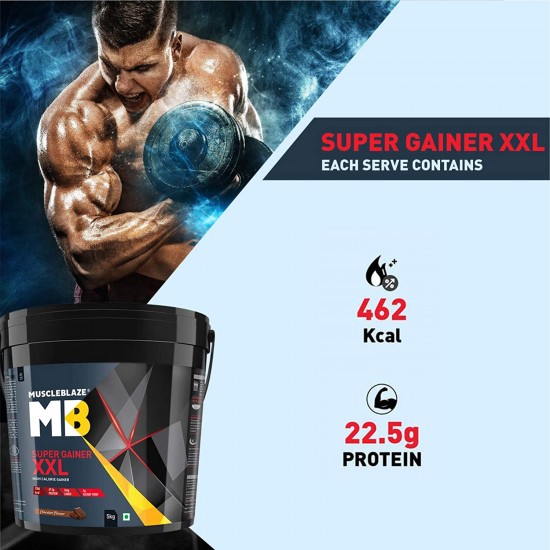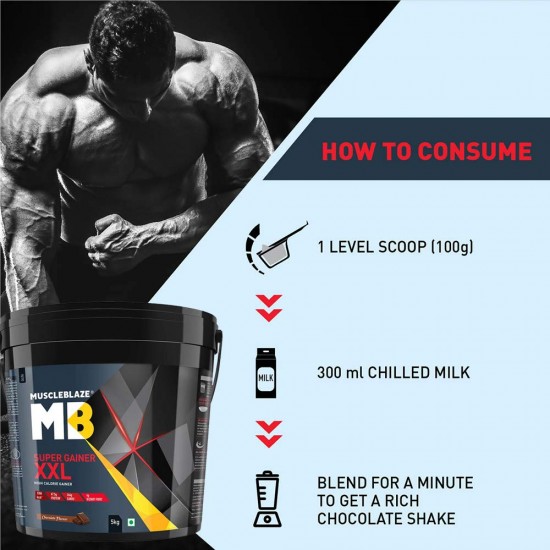 -35 % Out Of Stock
MuscleBlaze Super Gainer XXL, For Muscle Mass Gain (Chocolate, 5 kg / 11 lb, 50 Servings)
HIGH-CALORIE FORMULA: MB Super Gainer is exquisitely crafted for elite fitness enthusiasts who strive to gain muscle mass & a sturdy physique with a high-calorie formula that helps you meet your increased calorie requirements
CLEAN & HIGH-QUALITY PROTEIN: MuscleBlaze Super Gainer offers you 22.5 grams of protein derived from quality sources per 100 grams of serving when consumed with milk. It contains a blend of fast and slow-acting protein sources that help in faster muscle recovery and increases the availability of amino acids for a longer duration
ENERGY ABUNDANCE: The calories are derived from quality simple and complex carbs that work jointly to optimize the glycogen levels and provide energy for the workout. Receive a robust and sustained release of calories to fuel your muscles for long hours offering 462 kcal per serving
PACKED WITH 27 VITAMINS & MINERALS: Super Gainer XXL is enriched with 27 vitamins and minerals that help in boosting immunity and provide performance fuel to conquer your workout. It contains no added sugar and is trans-fat-free
APPETIZING FLAVOURS: MuscleBlaze Super Gainer XXL is available in delectable flavours like chocolate, cookies & cream, chocolate mint, chocolate cinnamon, choco coconut, mango burst, kulfi, and banana to seduce your tastebuds & provide fitness nutrition
NOTE FROM AMAZON: This product is protected by Transparency, which verifies a unit's authenticity and enables you to view rich information about the product you purchased. When you receive your product, please look for the Transparency logo and code, which is printed on the product's cover. You can scan it to verify its authenticity with the Transparency app or Amazon shopping app. To download the Transparency app or Amazon shopping app, get it on the App Store or Google Play.
Stock:

Out Of Stock

Model:

MBXXL_5KG

SKU:

MBXXL_5KG

Muscleblaze