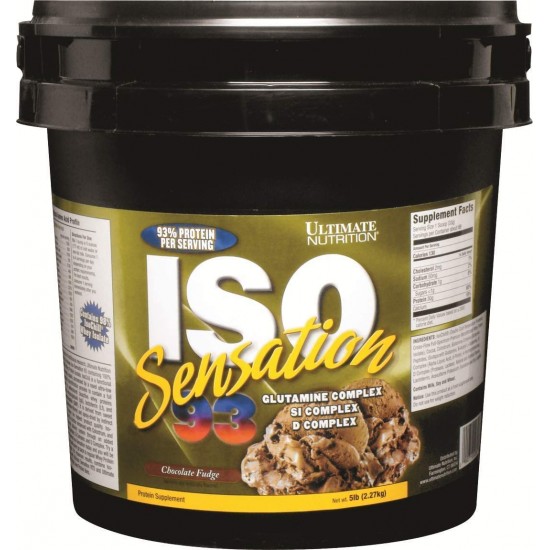 -37 %
Ultimate Nutrition ISO Sensation 93 - 5 lbs (Chocolate Fudge)
Product Details
§ Ultimate Nutrition ISO Sensation 5 lb Chocolate Fudge assists in the prevention of breakdown of your muscles
§ ISO Sensation provides 30g protein per serving
§ This supplement is loaded with sweet whey , membrane filtered and spray dried by indirect heat, which aids in ensuring highest quality product with rapid results
§ Ultimate Nutrition ISO Sensation leads to enhanced lean muscles as it assists in increasing insulin activity
§ Ultimate Nutrition ISO Sensation Chocolate Fudge is packed with 100% ISO Chill whey protein isolate, which comes processed by a novel ultra-low temperature micro-filtration process and provides help in the muscle building process
Benefits of Ultimate Nutrition Iso Sensation
To begin with, the unique formula of ISO Sensation gives you one of the best sources of proteins to fulfill all you nutritional needs and support a strenuous training regime. The benefits of using ISO Sensation 93 are as follows:
· Highest Quality Guaranteed: With Ultimate Nutrition ISO Sensation Protein, you get 30g of protein in every serving. This protein is broken down using a membrane filtration method. It only uses indirect heat which keeps the nutritional value intact. This sweet whey is great for those who need fast acting proteins immediately after a training regime that is extremely demanding physically. The innovative manufacturing process helps you make the most of great quality.
· Easy digestion and absorption: In addition to the protein being broken down in to smaller components for easier absorption, you also have added ingredients like SI Complex. This SI Complex helps improve the digestion of the carbs that you consume in your diet and also helps in improved starch and sucrose metabolism. That way, the carbs that you consume are utilized fully and you do not have to worry about any issues like added calories that can lead to fat deposits.
· Faster muscle recovery: When it comes to any professional level protein supplement, you need more than just proteins. You need a good dose of amino acids that will replenish the nutrient reserves in the body instantly. This is vital to ensure that there is no muscle loss or muscle breakdown after training. It also ensures that you do not have prolonged muscle soreness that could get in the way of your training. With Ultimate Nutrition Iso Sensation 93, you have the advantage of Glutamic Acid which supplies the necessary amino acids. It also makes for a major portion of your muscle fibers and hence allows faster recovery.
· Better overall health: In addition to proteins and amino acids, you also have some of the most necessary micronutrients in this supplement. For instance, you have the advantage of a Vitamin D complex that helps you build stronger bones. These micronutrients give you overall good health and also improve your metabolism. One of the most important benefits of Ultimate Iso Sensation is that it helps improve immunity. As a result, you are able to stay more consistent with your training regime and are also able to push yourself more.
About this item
· Optimizing insulin metabolism can support the muscle-building process
· Our SI complex includes alpha-lipoic acid, d-pinitol and 4-hydroxyisoleucine
· These ingredients are effective in improving insulin efficiency and sensitivity, In the end, they all favor better uptake of creatine, glucose and amino acids, and they enhance muscle recovery and growth without excess sugar consumption
· Ultimate Nutrition ISO Sensation Chocolate Fudge is packed with 100% ISO Chill whey protein isolate, which comes processed by a novel ultra-low temperature micro-filtration process and provides help in the muscle building process
· How to Use: Mix one serving of this Iso Sensation 93 with 6-8 ounces or 180-200ml of water. Shake it well to make a thick drink. You can consume between 1 to 4 scoops each day. The dosage depends upon the intensity of your training regime
Ingredients:
Natural and Artificial Flavours, Sucralose, Acesulfame Potassium
Stock:

In Stock

Model:

Ultimate Nutrition ISO Sensation

Weight:

2.27kg

SKU:

UNISO-S-5 LB
Ultimate Nutrition